Ride For Longer While Preventing Pain and Injuries Without
breaking the bank
for a new seat!
Let's face it... Bike seats aren't all that comfortable...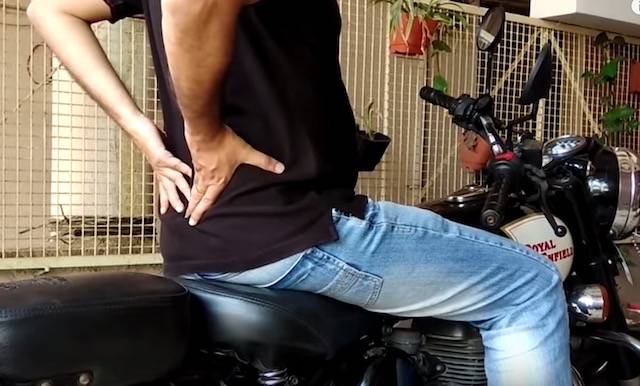 And unless you got your mama's butt genes, chances are you've felt the pain and discomfort of stock seats that feel about as soft as straddling a concrete slab covered in pleather.
Maybe you've tried out gel pads and felt okay at first, until you park your bike in the sun and come back to a scorching hot pad that is now 125°F and will burn your rear end the second you hop on.
Or maybe you've thought of buying a new seat, looked around for reputable manufacturers only to find out that replacement seats can easily run you upwards of $500 and that's no pocket change...
If you're looking to improve the comfort of your ride, WITHOUT the cost of buying a whole new seat, we've got you covered...
AIRSEAT™ - THE #1 RATED PREMIUM COMFORT SEAT
The AirSeat™ Premium Comfort Seat will minimize pain-inducing bumps and vibrations that plague all bikers and it will turn miles of dreaded pain, into miles of anticipated pleasure.
These cushions provide an additional layer of padding in-between you and the seat and will completely change your riding experience, with virtually no change in ride height.
And in the long term, your hips, back, neck, and joints will feel less pressure, which can have a significantly positive impact on your body over time.
BONUS: Get a FREE Air Pump ($14.99 Value)When You Order TODAY!
**While Supplies Last**
COMFORT LIKE NEVER BEFORE

Ultra-soft air pocket technology significantly reduces pressure on your hips, back, neck, and joints to make for comfortable, painless and injury-free riding in the long-term. Built-in stress relieving features reduce pressure points on tailbone, scrotum, and prostate


RIDE FOR LONGER, MUCH LONGER

We've all experienced that moment when riding - your bottom and backside are so sore that riding is no longer a pleasure. Well... Thanks to the AirSeat, now you can double or even triple your ride time because let's face it... Who doesn't want to ride all day? Especially if it's pain-free!


PREVENT INJURIES

Studies show that in just 1 hour of riding, the rider is exposed to vibrations comparable to that of a tractor operator for as much as half a day of fieldwork. The AirSeat greatly reduces shocks and vibrations to ensure a smooth ride all the time - so you're no longer exposed to the pressure that could lead to injuries.

UNIVERSAL FIT

The universal design allows it to be fitted to 99% of motorcycles. The AirSeat's design is engineered to cushion your bottom when sitting, so don't worry if the shape is not accurate and exactly like your bike seat.